The New Triple Glazed Window Systems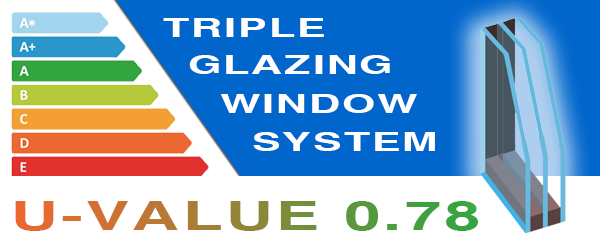 We are pleased to introduce the Whitehill Spindle Tools Triple Glazed Window System. Triple glazing is more energy efficient than double glazing due to the extra pane of glass and gas in between each pane. As energy costs rising and due to rise again in late 2022, energy efficient windows may become more important to homeowners.

Building on the existing HP Flush Window sets, Whitehill window systems can now be adapted to take 36mm DGU 4/12/4/12/4 krypton. This system can achieve a U-value rating as low as 0.78 W/(m2K) whilst being the same size as traditional windows. Existing Whitehill customers with HP Flush window tooling will require a small upgrade to be able to manufacture triple glazing systems.

A whole window system u-value of 0.78 W/(m2K) (HP Flush) is below the Passive house min requirement of 0.80 W/(m2K), enabling Whitehill customers to compete against much larger specialist manufacturers.
(N.B. Not passive house registered)
By offering the option of a triple glazed window system, Joiners put themselves at the forefront of technological developments to help combat climate change, thereby increasing their market diversity and marketability.
Email us or call +44 1582 736 881 to get more details on our range of window and door systems.