Summer work placement at Whitehill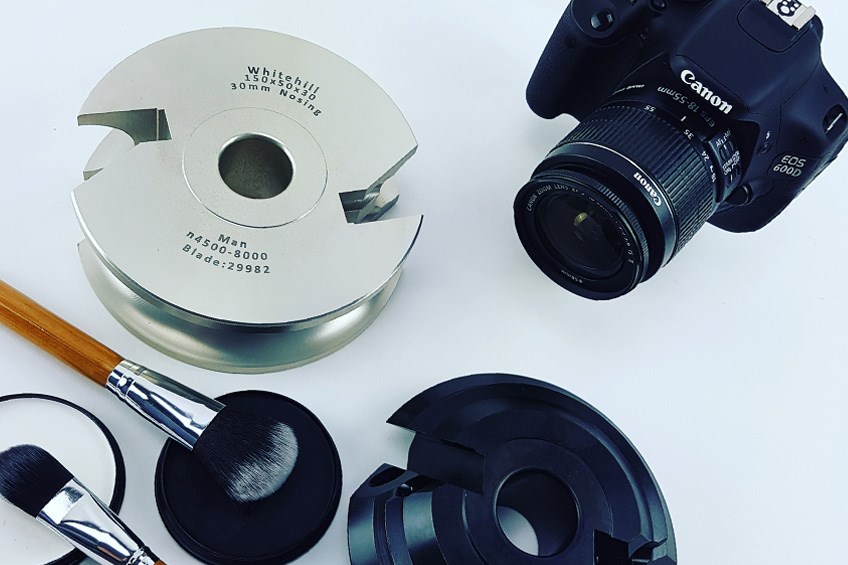 To aid in getting photos ready for our upcoming website, we went on the hunt for a part time photographer and graphic designer. As a result, Lauren joined us last summer. When asked about what initially attracted her to Whitehill, she said that it was to put her skills into practise from studying photography at college for two years. Then, after speaking with her brother about the role, she felt it would be a good fit: "I spoke to my brother who is a cabinet maker. He informed me that he knew Whitehill well, having used their tools. He strongly encouraged me to take the opportunity to work here. Now, Industry photography is something that could be a possible career path for me in the future."

When talking about her responsibilities within her position at Whitehill, Lauren was surprised at the enormous number of data. As she was predominantly in charge of the photography and graphics for the new website, it seems that she has got a lot more out of it than she first anticipated: "I was worried to begin with because I didn't have much experience with this. However, I was shown the ropes and soon became used to these tasks, gaining more skills that I didn't have before".

We recognised a lot of potential in Lauren. For this reason, we felt confident in giving her a fair amount of responsibility with the imaging of the tools for the website. Despite the large workload, by the end of her first week, she had managed to get into a comfortable rhythm. "I'd soon got the idea of what my job roll consisted of and what was expected of me. After the first couple of weeks, I was left to organise my own day. I had a lot of work to do but I didn't feel under pressure. I was appreciative that I could manage my own time. Communication between my supervisor was good. I felt as if there was a strong understanding of what I needed to do and what was expected of me".

We sat down with Lauren and asked her a few questions about her time at Whitehill. Here is what she had to say:

It certainly seems like you have thrived under the guidance and support of your supervisor, Shaun. Nevertheless, with every new job, there comes inevitable challenges. What has been the greatest difficulty for you? "I was originally worried about my extremely limited knowledge about the vast number of tools Whitehill make and stock. Luckily, I felt comfortable enough to ask anyone if I was unsure about a product. Over time, I learnt more about the products which allowed me to work more independently as the weeks went on".

It's great to hear that you've felt comfortable in the workplace. Especially in the woodworking industry, where such a small proportion of employees are female. Overall, how have you found working in a male dominated environment? "Although there is a very high ratio of men to women at Whitehill I wouldn't say that it was intimidating. Everyone here was extremely welcoming and made me feel comfortable. It's a professional atmosphere but that doesn't mean that we can't have a laugh!"

Wonderful to hear that you've had a well-rounded experience and that we haven't worked you too hard! What have you learnt from this experience? "I've learnt about industry photography and how to create the best product image. What's more, I've developed a completely new skill through the data inputs on the website".

Looking forward to your start at Uni, how has this summer position prepared you? "This job has helped me with management and organising myself to see tasks to the end. It will help with my private study and self-motivation. I will study Fine Art Critical Practise at Uni. The course consists of experiments with all kinds of art. There is a huge emphasis upon the conceptual analysis of each work. The critical approach I have had to adopt with my job at Whitehill will certainly benefit my Uni work, pushing me to get a deeper understanding of the piece itself".

This testimonial goes to show the importance of recognising potential in employees. Here at Whitehill, we strive to get the best out of our team. When asked if she would like to stay, she said "If I could stay longer here, I would. I would have liked to have stayed to see the finalised website go live. Especially because the launch was so soon after I finished. I would have liked to see the final product". From this, it is fair to say that we have been successful in offering a beneficial opportunity which allows young people to grow and build in their confidence. We are ahead of our time in building a supportive environment. It is clear that Lauren was aware of our expectations, making our goal of putting the website live to be an achievable one.